Select number of nights first. Prices shown are for the total stay for the entire centre for up to 30 people.
For no obligation help and further information, please email: lockerbrook@woodcraft.org.uk
or call 01433 651412
Discounts available for Schools, Youth groups and Woodcraft Folk
Catering and Activities available on request.
Two night residential packages with catering and activities from £120 per child.
Get in touch to discuss your requirements.
Our Bunk Barn sleeps up to 38 in dormitory style bunk bed accommodation.  Groups have sole use of the site.
The main barn has 1x 12 bed, 1 x 10 bed, 1 x 6 bed 2 x twin and 1 x linked 4 bed (2 adjoining twin bunk rooms)
Once this is fully booked we have an overspill option of 3 additional twin rooms- Please contact us directly for details of these and to check availability..
There is a 2 night minimum unless you are also booking activities and catering with us.
We offer an any day start (excluding Sunday) and finish.
Mid week arrival (Monday-Thursday) is after 11am with departure by 11am.
Weekend arrival (Friday), Christmas & New Year is after 3pm with departure (Sunday and bank holidays) by 2pm.
Early arrival and later departures can be arranged for a fee.
How to book
You can check availability and prices on the calendar above, make sure you put in the number of nights first. The price shown is for the full cost of your stay.
A 30% deposit will be required to secure your booking.
Please note there is a minimum hire charge for the Bunk Barn based on 30 beds. If you book for additional guests up to our maximum of 38 this will be reflected in the price.
Bunk Barn bookings with catering and/or activities
If you wish to add catering, activities or extra twin rooms please do the following:
Look at the availability calendar to find your preferred dates.
Either email or ring us to discuss your requirements.
We will provide you with a detailed quote.
Complete the booking form via the availability calendar.
We will then confirm your booking and send out your invoice.
We recommend you book well ahead if you are wanting to bring a group during the popular months of May, June, Sept and October.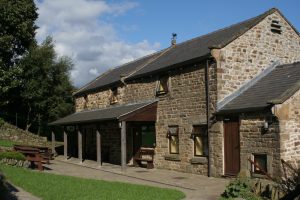 Prices 
Our standard prices include VAT. Schools, the Woodcraft Folk and other charities are exempt from VAT which will be removed during the booking process. If your group qualifies for a VAT reduction, please note this in your booking or contact us directly.
Woodcraft groups (excluding Kinsfolk) get a 20% discount. The following Terms and Conditions apply to your booking.
Our prices are for sole use and inclusive of all other charges including bed linen, heating and a complimentary supply of logs for your first night. We provide environmentally friendly washing up liquid, cleaning products, tea-towels, bin bags. You just need to bring your own towels. 
If you would like to book catering or activities we will provide you with a detailed quote. You can find out more about our activities here.
---
If you are interested in Duke of Edinburgh camping please make an enquiry via this link.
---
---