Escape the crowds at Lockerbrook!
UPDATE 29/03/2021
With the release of the Government's COVID-19 Response – Spring 2021 guidance we can now confirm the availability of our Cottage, Bunk Barn, DofE field and the full reopening of Lockerbrook Farm Outdoor Centre.
Step 2 (no earlier than 12th April)
Both the Cottage and Bunk Barn can each host one family group or bubble. The Bunk Barn will accommodate up to 10.
Step 3 (no earlier than 17th May)
The Bunk Barn can accommodate school groups, subject to guidance from the Dept. of Education. Our DofE field will be able to host Silver and Gold groups.
Step 4 (no earlier than 21st June)
The Cottage and Bunk Barn can accept mixed groups. The Bunk Barn will be fully opened and return to accommodating up to 38. We are taking bookings for 2021 & 2022.
We can welcome families or household support bubbles to stay with us at Lockerbrook in either our 18th century Cottage or our well-equipped Bunk Barn. We offer piece-of-mind as extra cleaning is undertaken by staff to ensure your stay is 'Covid-19 Secure'. Find out more here about how we have prepared a safe accommodation for you.
We only hire on an exclusive use basis for each property.
We currently have two units available – the Cottage is suitable for a single household bubble with room to sleep 6 (babies and toddlers in cots do not count towards the total). If you are a larger family why not book the Bunk Barn with room for 10. A single family group/bubble over 10 may be allowed subject to negotiation. Arrival for both units is after 4pm and departure by 10am. The minimum booking is for 3 nights at weekends and 4 nights midweek.
If you are a larger group wanting to book for groups up to 38 (36 in bunks, with an additional 2 on fold-out beds) from 21st June 2021, we are taking bookings subject to the current coronavirus restrictions being lifted. Please use the booking enquiry form at the bottom of this page to get in touch with us.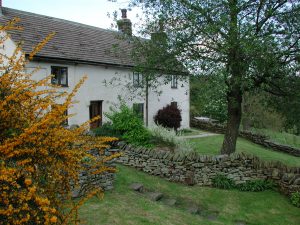 Cottage (18th century)
Sleeps up to 6 (3 bedrooms, 2 with singles and 1 double)

Clean but modest accommodation (this is not a luxury cottage!)
Central heating

Cosy sitting room with log burner 

Kitchen

Dining room

Enclosed garden with stunning views

BBQ provided

Access to emergency phone (limited mobile signal)

Wi-fi available for browsing (not enough data for streaming)
One well behaved dog permitted (ground floor rooms only, additional charge)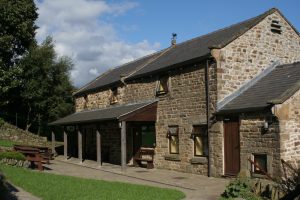 The Bunk Barn (2 buildings)
Up to 21st June 2021 – Sleeps up to 10 (in 3 rooms with bunk beds). Must be from a single household/support bubble.
From 21st June 2021 – Sleeps a maximum of 38 (36 on bunk beds and two on fold out beds).
Exclusive use only
Clean, cosy and functional accommodation
Central heating

Large well equipped self catering kitchen and dining room

Activity room and lounge area (log burner available for Christmas/New Year bookings!)


Large sunny courtyard and lawn area with stunning views

Fire pit available for hire

BBQ provided

Access to emergency phone (no Wi-Fi and limited mobile network available)

One well behaved dog permitted (ground floor rooms only, additional charge)
Prices 
Prices start from £300 for 3 nights for the Cottage. The Bunk Barn starts at £500 (up to 21st June 2021). We make a small additional charge of £20 if you bring a dog and if you hire our firepit (bunk barn only).
Our prices are inclusive of all other charges and include bed linen, heating and a complimentary supply of logs if you are staying in the Cottage or our Bunk Barn at Christmas / New Year.  We provide environmentally friendly washing up liquid, t-towels, bin bags.  You just need to bring your own towels. 
Payments
On receipt of your booking request the centre will issue you an invoice. 
How to book
Check out our availability calendars for the Bunk Barn and the Cottage to see if your preferred dates are free, or contact us at lockerbrook@woodcraft.org.uk. Our charges include sole use on a self catered basis, bedding, heating and one night's complimentary supply of logs (for the cottage).
Bunk Barn (up to 21st June) and Cottage – We hire out for a minimum of 3 nights at weekends and 4 nights midweek. Our arrival days are Mondays for mid-week bookings and Fridays for weekends after 4pm with departures by 10am.
Bunk Barn (after 21st June) – Mid-week arrivals are Monday after 11am, depart before 11am Friday. Weekends are arrival Friday after 5pm, departure Sunday before 2pm.
Please check out our Terms and Conditions for further details.